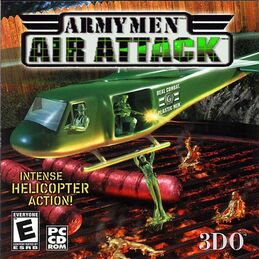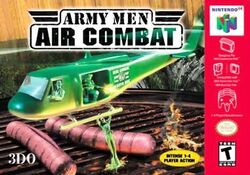 Army Men: Air Attack, titled Army Men: Air Combat in the Nintendo 64 and Game Boy Color versions, is a third-person shooter game from the Army Men series developed and published by 3DO. The game was released in 1999 for PlayStation, in 2000 for Nintendo 64 and Game Boy Color, and in 2001 for Microsoft Windows.
The main character is a Green Air Cavalry pilot named Captain William Blade. This game has over 12 missions with three extra choppers to unlock. The first helicopter is a Huey, then a Chinook, a Super Stallion, and finally an Apache. There are also three extra co-pilots to unlock. The first pilot is 'Woodstock', then 'Rawhide', next is 'Hardcore', and lastly Sarge Hawk in his first appearance. Air Combat contains a new character: Lt. Felicity Wannamaker, A.K.A "Bombshell".
Captain William Blade, the leader of the newly formed Alpha Wolf Battalion, does battle against the mighty Tan Republic in both the real world and plastic world.
The train on Mission 3: The Train That Could appears to be based on Thomas the Tank Engine.
External links
Edit